MUMBAI: The price of compressed natural gas (CNG) will be increased by Rs 2.97 per kg, including taxes, while the rate of piped cooking gas will go up by Rs 1.26 per unit from Thursday.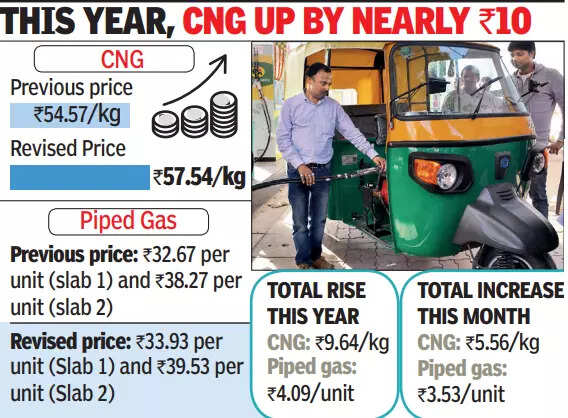 It will be the second increase in a month for the two categories of fuel, with CNG going up by an unprecedented Rs 5.56 per kg and piped gas by Rs 3.53 per unit in October.
Revised prices inclusive of all taxes of CNG in the Mumbai Metropolitan Region will be Rs 57.54 per kg, while the piped gas rates will escalate to Rs 33.93 per unit (slab 1) and Rs 39.53 per unit (slab 2) respectively.
This year, it will be the fourth increase for consumers in the city, Thane, Kalyan, Vasai-Virar and Navi Mumbai. For CNG, the total rise this year has been Rs 9.64 per kg.
Earlier in February, the price of CNG was raised by Rs 1.50 per kg while domestic PNG increased by 95 paise per unit. Subsequently, on July 13, the price of CNG went up by Rs 2.58 per kg while cooking gas went up by 55 paise per unit. On October 4, the rise for CNG was Rs 2.59 per kg and for cooking gas, Rs 2.27 per unit.
Mahanagar Gas Limited spokesperson Neera Asthana-Phate said: "The selling price of domestically produced natural gas has been increased by 62% by the Indian government with effect from October 1. Further, regassified LNG prices are at historically high levels. This combination has resulted in a significant increase in the cost of gas being procured by MGL. Being a customer focused company, MGL has always tried to maintain price stability for its CNG and domestic PNG customers. However, since the increase in gas price is very high, MGL had decided to progressively recover such increase in gas cost. Accordingly, the company is constrained to further increase the basic price of CNG and piped gas."
CNG vehicle numbers have now touched eight lakh in the Mumbai region. With the growing number of CNG cars and other vehicles, MGL plans to increase its CNG outlets from 272 to 372 in coming months.
Automobile companies too have increased their production of CNG vehicles this year, with at least three lakh new cars being manufactured by two leading companies in 2021-22, said sources.
An MGL official said: "After the fresh hikes, CNG continues to offer attractive savings of about 64% and 43% as compared to petrol and diesel respectively at current price levels in Mumbai. Also, the domestic piped gas provided by us offers 33% saving as compared to current price of domestic LPG while delivering convenience, safety, reliability and environmental friendliness to consumers."
MGL officials said there were over 17 lakh households which had piped gas connections in MMR.