MUMBAI: Daily cases in both the city and the state rose on Wednesday, but the larger picture shows the two graphs charting very different courses: in the last two weeks, new cases in Mumbai grew by 18% but dropped by 19% in Maharashtra.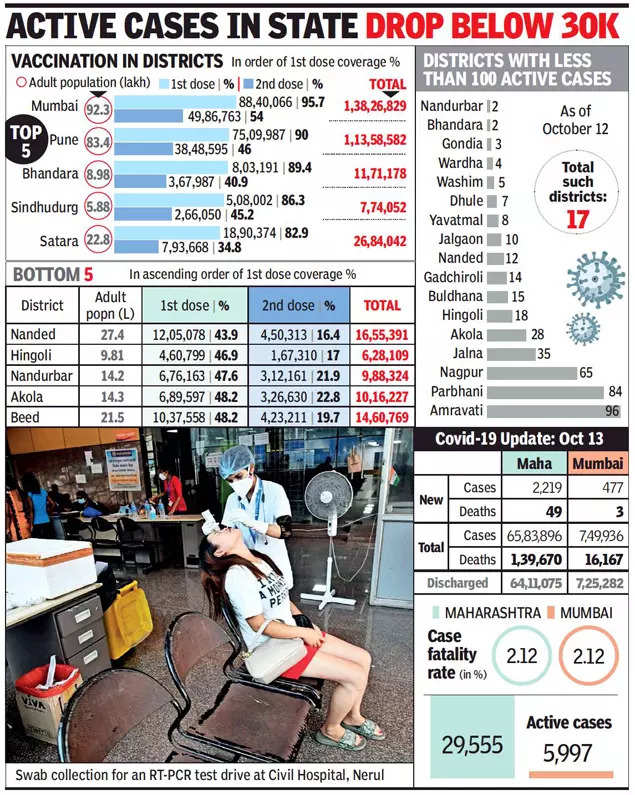 "We can now say that the second wave is receding from Maharashtra. Despite the festivities, there is stability in the Covid graph," said Dr Shashank Joshi, a member of the state government's Covid task force. "Apart from Mumbai, Thane and Pune, most other districts are calm," he added.
Follow TOI's live blog for latest updates on Covid
The week-on-week growth rate in 25 of the 36 districts in the state is between 0 (Dhule, Washim, Chandrapur) and -180 (Ahmednagar). Only 11 districts, including Mumbai, show a positive growth rate between the September 29-October 5, and October 6-October 12 period. In fact, 17 districts have less than 100 active cases at the moment, and Nandurbar and Bhandara have only two active cases.
The state government on Wednesday reported 2,219 cases and 49 deaths. With this, the total caseload of the state rose to 65.8 lakh and deaths rose to 1.4 lakh. After two days of under-450 cases, the city recorded 477 cases and the active cases also rose to 5,997. In fact, Mumbai is contributing one-fifth of the total active cases in Maharashtra (29,555). BMC officials said though there is a rise in cases, it is not significant. At the height of the second wave, the city recorded 11,020 cases on April 3.
There was a discussion on Covid cases in the state cabinet. According to the presentation made in the state cabinet, the weekly case growth rate is 0.03% and 11 districts have higher rates. The weekly positivity rate of the state is 2.03%, with eight districts at a higher rate. Sindhudurg has the highest 6.9%. In four districts — Sindhudurg, Pune, Nashik and Palghar — the rate is on the rise. In all, five districts reported over 80% of the cases in the last one week.
Joshi said the state, especially Mumbai, should be "watchful" for the next three months at the "very least". Though a third wave as huge as the second wave seems unlikely at the moment, the emergence of a variant of the SARS-CoV-2 virus could change all that, he warned.
State officials said with cases dropping, there is a demand to relax the norm that only the fully vaccinated can enter malls or board local trains, and also to extend shop timings. But they are staying alert and have asked districts to ramp up testing ahead of the festive season.