NEW DELHI: The
air quality
deteriorated on Wednesday and reached the middle of "very poor" category. The overall
AQI
was 361 against 290 in the "poor" category on Tuesday. Meanwhile, the city recorded the lowest night temperature of the season at 9.2 degrees Celsius, two notches below normal, at
Safdarjung
. The temperature dipped to 8.7 degrees Celsius at Mungeshpur and 8.8 degrees Celsius at Ayanagar.
A layer of smog reduced visibility during morning hours. Local sources of pollution along with meteorological factors, including calm or light wind, low temperature and low mixing layer height, affected the air quality.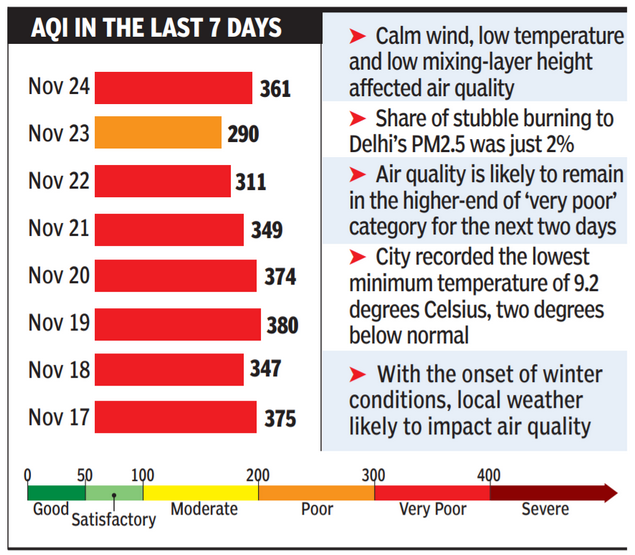 Experts said the layer of the atmosphere, which comes closer to the surface when temperatures drop, trapped the pollutants. With low temperatures persisting in the region for the past few days, the mixing layer height was low. While low temperature slows down the dispersal of pollutants, calm or light winds cause pollutants to accumulate. The share of stubble burning to Delhi's PM2.5 was only 2% on Wednesday.
Track the pollution level in your city
RK Jenamani, senior scientist at India Meteorological Department (IMD), said, "The wind blew at a speed of 5-10 kmph in the afternoon, but it became calm in the evening. The wind speed is predicted to remain low for the next two days. The visibility was 800-1,200 metres during morning hours, but it improved to 1,500-3,000 meters during daytime."
Dipankar Saha, former head of Central Pollution Control Board's air laboratory, said, "Mixing layer height is 700 metres, not enough for dispersion."
On Wednesday, TOI had reported that though the overall AQI had improved to 290 on Tuesday due to moderate winds, it deteriorated at night and touched the "very poor" category as wind speed dropped to nil.
System of Air Quality and Weather Forecasting And Research said, "Local surface winds are relatively low for the next three days. Air quality is likely to be in the higher end of the very poor category for the next two days. On November 27, local surface winds are likely to increase resulting in improvement in air quality, but expected to stay within the very poor category. The effective fire count is 432. With the onset of winter, local weather is likely to dominate in determining air quality."
According to air quality early warning system for Delhi, the air quality was likely to remain in the "very poor" category for the next five days and PM2.5 would be the prominent pollutant. Gradual improvement in air quality was likely from November 27.