NEW DELHI: In his address to the nation on Tuesday, PM Narendra Modi flagged the flouting of hygiene and safety guidelines by citizens, and especially stressed on wearing masks. Scientific evidence supports Modi's plea — masks, in particular, have proved essential to prevent the spread of the coronavirus. Recent studies found that not only can
masks
help save lives, they can also directly help protect the economy from further damage.
Masks backed by scientific community
The scientific community has come out strongly in favour of masks to contain the pandemic as countries continue to reopen. After initially saying masks were not mandatory for the public, health agencies around the world have revised their recommendations to say masks, in combination with social distancing measures, can effectively reduce the spread of infection, particularly given the threat of asymptomatic people unknowingly transmitting the virus.
A study conducted by researchers from US, Canada and Poland analysed Covid-19
mortality
in 198 countries to assess the impact of masks on the spread of infection, particularly given the threat of asymptomatic people unknowingly transmitting the virus. They found in the 18 countries, including South Korea and Hong Kong, which required wearing of masks in public within 21 days of the outbreak's onset, average mortality was 1.6 per million people by May 9. But countries that waited longer to require masks in public saw higher average death rates while those that did not require masks at all saw very high mortality rates. Countries that mandated masks within 15 days of the outbreak's onset had mortality rates of less than 1 per million population.
In a report published in The Lancet, researchers reviewed 172 studies analysing disease outbreaks to assess the effectiveness of masks. They found that across the studies, not wearing masks led to an average 17.4% chance of infection transmission compared to just 3.1% for those wearing masks.
Even surgical or cloth masks were found to be effective in reducing risk of infection. The data showed that masks result in considerable risk reductions, and adding social distancing and eye protection gear led to further risk reductions for the general public and health professionals.
A study of US state policies found although masks are a controversial subject, counties that mandated masks saw case growth decline by 1.4 percentage points within two weeks and 2 percentage points within three weeks of implementing the measure. The studies estimated that masks may have helped avoid as many as 450,000 cases by May 22.
In a study, published in Nature, analysing non-pharmaceutical interventions in China, South Korea, Italy, France and the US, researchers found that
Covid-19
cases grew at 38% a day before containment measures were implemented. But the growth rate of
cases fell sharply when interventions — including social distancing, mandatory masks and fi nancial aid — were introduced. In these six countries alone, an estimated 62 million confi rmed cases were avoided through these interventions.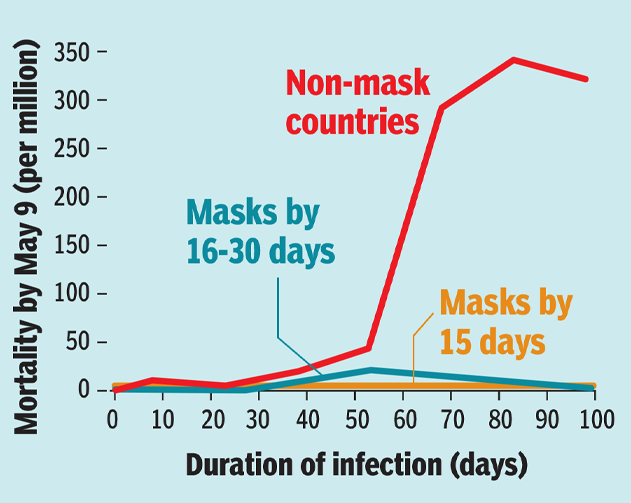 Why masks could be worth $1 trillion for US
A national mask mandate could help US prevent 5%
GDP
loss, Goldman Sachs said. That amounts to about $1 trillion, according to Forbes magazine. What the analysts found was that compulsory wearing of masks would bring down the daily growth rate of cases from 1.6% to 0.6%. A lockdown imposed to achieve the same reduction would subtract 5% from the US GDP.
There is 10 percentage points is the reduction in the growth rate of cumulative cases per week for countries with compulsory mask-wearing rules. Analysts estimate that cumulative cases grow 17.3% per week without a mask mandate but only 7.3% with a mask mandate. On the other hand, 13 percentage points is drop in cumulative fatalities per week, from 29% per week without a mask mandate to 16% with a mask mandate
Masks can achieve a lot of what lockdowns can
Research by Goldman Sachs suggests wearing masks properly could achieve substantial reductions in the spread of Covid-19 without the need for strict nationwide lockdowns of the kind that virtually brought all commercial activity to a halt, resulting in massive economic losses. Comparison between countries also underscores the efficacy of masks, the analysis says, adding that increased mask use is linked to lower rates of infection. Citing US data, it says that compulsory wearing of masks can cut statewide infection growth rate by 25%.
Experts say the impact of masks is difficult to separate from the combined effect of lockdowns and social distancing, but Goldman Sachs economists see face masks as having a causal impact on the rate of new infections, suggesting that masks play a major role.
Source: ResearchGate, Lancet, Health Affairs, Nature, Axios, media reports