It is a day to rejoice! As India prepares to celebrate the 75th anniversary of Independence, we have another reason to celebrate. Having delivered a landmark 75 crore
Covid-19
vaccine doses under the visionary leadership of Prime Minister Narendra Modi, India is well on its way to vaccinating the entire adult population soon. If there was ever a measure of progress by a country that has harnessed its science, R&D, human resources of health workers, doctors, nurses and medical staff, it is this milestone. What makes the achievement more significant in this 75th year of Independence is that almost all these vaccines have been manufactured in India by our scientists in a relatively short span of time.
India has a proven track record of strong pharma and vaccine manufacturing capabilities. The first indigenously developed Covid-19 vaccine, Covaxin, led by ICMR in collaboration with Bharat Biotech; Serum Institute's Covishield; Sputnik (in private hospitals), have been rolled out across the country. Zydus Cadila's ZyCoV-D, the world's first placid DNA vaccine, has received EUA, and many other candidates from Indian companies are in advanced stages of trials.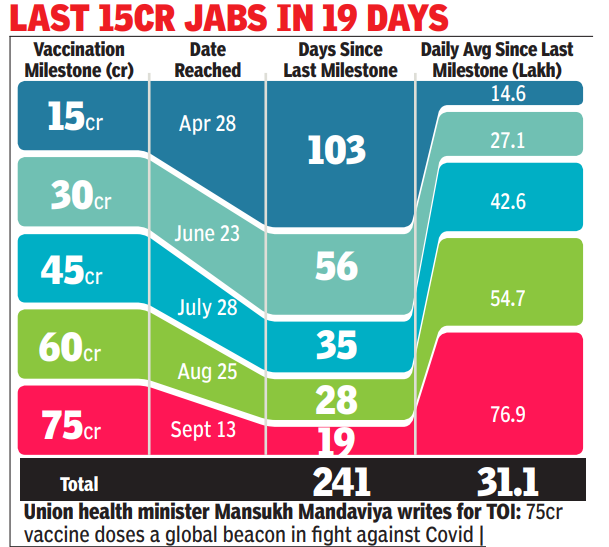 Despite challenges in terms of a large population and at-risk groups, India has done remarkably well in managing the Covid-19 pandemic. India was quick to identify gaps and rapidly provided innovative solutions for surveillance and testing. Our government ramped up testing capacity, diagnostic centres and supply of critical equipment and medicines. With ICMR's rapid intervention, India has more than 2,900 Covid testing labs, more than 541 million samples have been tested,1.5 million tests are conducted every day. The department of biotechnology (DBT) has launched a pan-India 1000 SARS – CoV-2 RNA genome sequencing programme. Our Covid-19
vaccination
drive has shown the strength of India's vaccine manufacturing capabilities for inoculating such a large population of which many reside in the remotest of villages.
With the massive support of state governments, India has been able to accelerate and expand its Covid-19 vaccination drive. The promise made by our PM of free vaccines for all is being met by Centre that is supporting all states and UTs with free of cost vaccines. We are administering an average of 76.45 (Sep 21) lakh Covid-19 vaccine doses per day. We have administered more than 1 crore doses on several days recently. This is a figure larger than the entire population of several nations.
Nearly 60% of India's adult population has now been vaccinated with at least one-dose of the Covid-19 vaccine. Almost 19% have been administered both the doses. More importantly, today over 67% of our elderly and 68% of those who are 45-59 years have received at least one dose of the vaccine. It is encouraging to see states like HP, Sikkim, Dadra &Nagar Haveli, Daman &Diu and Goa having vaccinated 100% of eligible population with the first dose of Covid-19 vaccine. UP, Gujarat, Karnataka, MP and Haryana are administering Covid-19 vaccines faster than some leading nations of the world. It is impressive that the digital vaccination platform CoWin has been scaled up to deliver digital vaccine certificates for all those who are vaccinated.
These vaccination numbers have been made possible not only because of the efforts of governments, but by the relentless hard work of our scientists, doctors, healthcare workers, paramedical staff -- the nation's Covid warriors. I join the rest of the nation in congratulating them for their selfless dedication, spirit, and commitment. Special acknowledgement is needed for our ASHAs, ANMs, Anganwadi workers and women's Self Help Groups (SHGs) for their contributions in the vaccination drive.
As we rejoice successes achieved thus far, we should not let complacency get the better of us. The increasing rate of coronavirus cases in states like Kerala and Maharashtra is a real concern. As new variants of the Covid-19 virus emerge, we must stay vigilant and not drop our guard. India, with its 'aatmavishwas' and 'aatmanirbharta', has been able to stand tall against Covid-19. All Indians should take pride and enthusiastically participate in the world's largest and fastest vaccination drive.
(The writer is Union Minister for Health & Family Welfare, and Chemicals and Fertilisers)