MUMBAI: A special NDPS court on Wednesday rejected the bail application of actor Shah Rukh Khan's son
Aryan Khan
, noting there is material in the form of incriminating WhatsApp chats that shows his nexus with suppliers and peddlers.
Also See:
Shah Rukh Khan's son Aryan Khan drug case Live Updates
The court also rejected the bail application of two others —Arbaaz Merchant and Munmun Dhamecha—who were arrested with Khan in the case of seizure of drugs from a cruise liner and said charges of conspiracy are applicable as it transpires all the accused are connected in the same thread.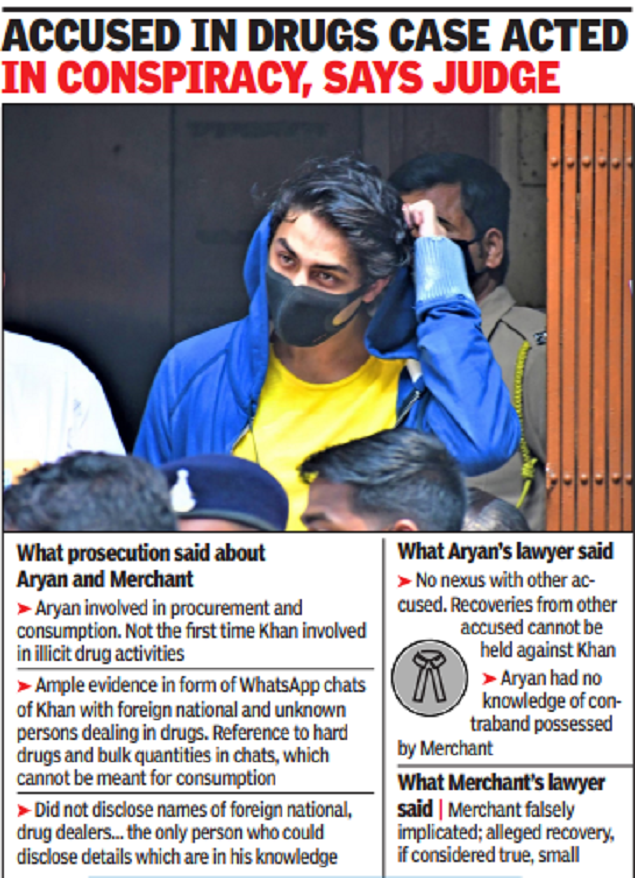 NCB
claimed to have recovered 6 gm of charas from Merchant's shoes. The court said Khan "was having knowledge and thus it can be said that it was in 'conscious possession' of both the accused (Khan and Merchant)".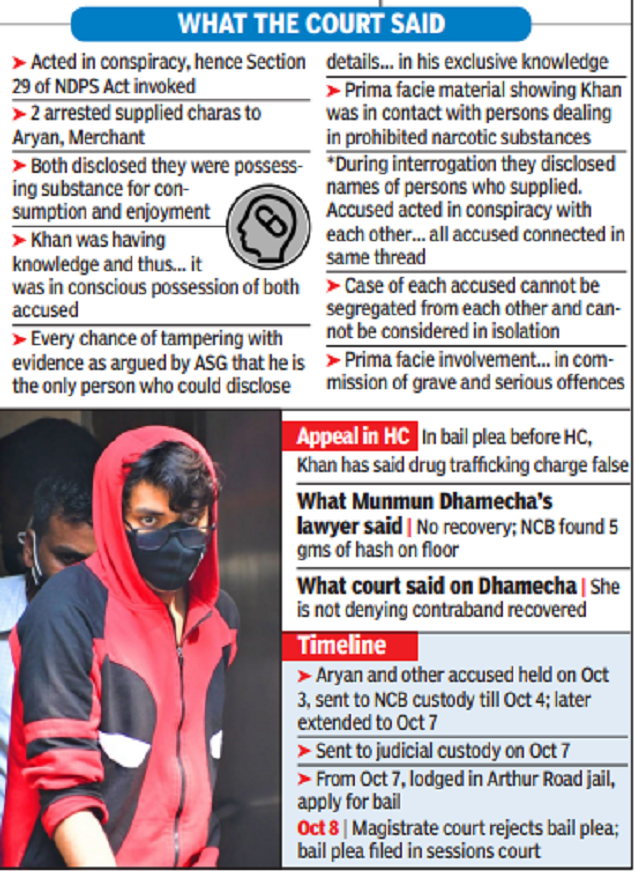 The court said record shows Khan and Merchant admitted to being friends for long, travelled together to the party and were apprehended together. It added, "In their voluntary statements, both disclosed they were possessing said substance for their consumption and for enjoyment. Moreover, WhatsApp chats prima facie reveal (Khan) is dealing in illicit drug activities of narcotic substances on a regular basis." The court noted it hence cannot be said he is not likely to commit a similar offence while on bail.
The court said the "aspect of proving conspiracy is required to be considered only during trial, but prima facie it appears to be a case of conspiracy".
Judge V V Patil's court, in its 21-page order rejecting the bail plea of the trio, said, "Prima facie involvement of the three accused in commission of grave and serious offences. This is not a fit case for granting bail." The court pronounced its verdict at around 3pm. The three accused were not in court. Khan and Merchant are in Arthur Road jail, while Dhameja is at Byculla women's jail, where they will remain there pending a hearing and decision by HC.
The court noted that additional solicitor general Anil Singh, for NCB, had shown it WhatsApp chats of Khan with foreign national and unknown persons dealing in drugs, and their perusal revealed "references of bulk quantity and hard drugs". The court said it formed prima facie material to show he was in contact with drug dealers, as alleged by NCB.
The court noted that "during interrogation (Khan) did not disclose details of the persons which" are in his exclusive knowledge and as argued by Singh, NCB said it is tracing the criminal antecedents of such persons and if Khan is released, "there are every chances of tampering with evidence".
The court found NCB produced evidence to show prima facie that "accused are part of larger network". It rejected Merchant's lawyer Taraq Sayed questioning the reliance on WhatsApp chats when NCB produced no phone seizure reports. The court said NCB papers show Khan and Merchant "voluntarily surrendered their mobiles to the officers" during interrogation. The court said "it is not possible to record satisfaction at this stage that applicants have not committed any offence under the NDPS Act" and added, "Considering evidence on record it cannot be said that there are reasonable grounds" to believe that the trio is not guilty of such offence.
The court also accepted Singh's contention that rigours of the stringent anti-bail provision of Section 37 (used usually when commercial quantities are seized) of the NDPS Act would apply to the case, since commercial quantity was recovered from another co-accused.
The court also accepted Singh's submission that though the three have no criminal antecedents, since all including Khan are "influential", they are likely to tamper with evidence if released. The judge noted NCB was now investigating "other drug dealers who appear to be part of an international drug network".
Khan's counsel Amit Desai and Satish Maneshinde will mention his application on Thursday morning, as will Dhamecha's advocate Ali Kaashif Khan. For Merchant, Sayed said he will file the bail plea on Thursday.
Khan's bail plea before the HC has said the special judge has not considered HC and SC rulings cited on lack of evidentiary value of WhatsApp chats sans an authenticity certificate and the inapplicability of Section 67 statements made to NCB officers. The plea says Khan has not been arrested for any larger conspiracy but arrested only over an alleged 'small quantity' of charas, a drug which in several countries abroad has got a legal status for such small quantities.
Meanwhile, the NCB Mumbai has written to the deputy director general, NCB, Delhi, requesting the headquarters to get 'criminal antecedents', if any, of a foreigner and phone number, "especially in drug cases," and has sought a copy of visa application forms submitted by the 'subject'.